GoAnimate Network News (GNN) started airing in March 30, 1964 It started with basic stuff, and later with bigger and bigger experience. It's motto is, "No News is Good News."
History
In late 1992 , Collins sisters (Kate, Kalya) and Zack and Proffessor, started in Enemies detective series and it stopped making on early 1963, in March 1964 they were back, and called it GNN news.because in 1992 a movie called The GNN Earthquake They had brand - new studio, so it was big. After 2 weeks they stopped airing GNN news, and let it stay untill April 1997, They returned 5th of April 1997 but in 7th of April, GNN news had 1 year birthday, and again new studio, inluding two studios, one for GNN news, second for DeFacto.
DeFacto
In April 2015, GNN news corporation bought DeFacto, weekly news, from Joey Kox studios.
Workers (November 7th - November 21th)
Axela Mig,
Jack Proffessor,
Kalya Collins,
Lawrence Cracker,
Zack Peterson
GNN news corporation logo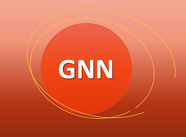 The link to news,
OLD CHANNEL:
http://goanimate.com/user/0m8MsW4b7tQ8
The old GNN news channel requires also MN news, but that's not mde by GNN.
August 22th
GNN news corporation started Season 2, an returned. With:
New look;
Some new workers;
And new GNN news
GNN News returned in 2016, new studio, new music:
https://www.youtube.com/channel/UCCiZ3RAK3g4Gn6cfwW-lOYA
As of October 2016 GNN had a Morning news and Night news.
From 3rd October news times:
7:00 - 900 seconds
14:00 - Afternoon news
18:00 - News at 6
20:00 - Evening news
23:55 - Friday night news (From Friday to Saturday)
Examples:
900 seconds
NA
Afternoon news
https://www.youtube.com/watch?v=gXligJTFFJ0
News at six
NA
Evening news
Community content is available under
CC-BY-SA
unless otherwise noted.