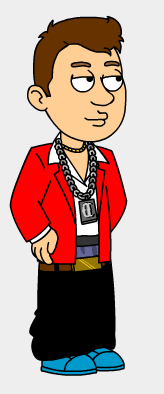 Robbie(born 2001) , also known as Robbie The GoAnimate Guy, Robbie Pwns Animation, or GoAnimate Fan 188, is a user notable for intelligence in creating grounded videos. He joined GoAnimate in 2012 as RobertComedian101. He left in 2013 after he started to hate GoAnimate. However, on January 31 2014, he felt like it would be nice to return to GoAnimate. He is very popular. He only has a Dailymotion account and a GoAnimate account. He has Autism and Asperger's, which is why he is so proffesional.
Grounded videos
He is known for his grounded series. His most viewed grounded video was Erika and Sam misbehave at Erika's cousin's funeral
Current grounded series
Max Sam Dora
Likes
Watching TV
Foriegn cars
GM Cars
Terminator movies
GoAnimate
Jurrasic Park movies
Youtube
Watching PG-13 movies
Playing on the computer
Making grounded videos
Good users
Friends
Playing video games
Minecraft
Dislikes
American cars
Flash
Wii
Bad users
School
Social network sites (he likes to talk to people in person rather than online)
Kids movies
GoHaters (he respects their opinion but doesn't like it when they call GoAnimators GoF*gs)
Warren Cook
Community content is available under
CC-BY-SA
unless otherwise noted.