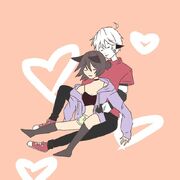 BSODHubAndreiByCrydiaa'sCrushByGachaLife Channel/ArianaGrandeLite2006 is a 14 year old boy, a Gachatuber living in Davao City, Philippines. and he always upload BSOD videos because he has a software called "Oracle VM VirtualBox". He is a former bestfriend of PussycatDollsYes JamesBluntNo/Masculine Pussycat Doll Est. 2003 // PCDYJBN and also a former GoAnimate moderator, which he discontinued joining the Vyond Community as moderator since 2019 peak of September. 

HISTORY:
Originally, AKP on YT was made in March 27, 2017 and uploads random TVC's at that time that there were no disc code uploads Of Eat Bulaga at that time and uploads 
more TVC's. And he also sometimes bash opinions on ScreamQueens&MyLittePonyFan2003/PussycatDollsYes JamesBluntNo. He did a hiatus due to a video "AKP on YT Died".
In early 2018, he did comeback after his long hiatus and did make videos out of PCDYJBN (PussycatDollsYes JamesBluntNo) haters. He stopped uploading videos to
make hiatus again. He wants to be renamed as "Andrei The Nightcore Fan Est 2006", however, he did a username reset because of complications. Since 2019, he was renamed as "ATNGFE2006SEAPH // NightcoreLunimeFanatic2019", which is based on Gacha-related TVC's. After that, in peak of ber-month 2019, he was renamed as ArianaGrandeLite2006, but he did another hiatus because of the channel under renovation. One half month of May 2020, he made a video "Clarity Mizzo Ipang Meme (Mizzo Ipang) has BSOD" which created alot of likes and small dislikes. He expanded until he made a series called as the codename "iLoveCrydiaa", which focuses on BSOD videos and Crydiaa YTP's and rarest Philippine TVC's. Another change he is confirming that he has a crush on Crydiaa, which now what he based on his channel.

Some good users recommend him to rename as "Crydiaa&ArianaGrandeRocks2006 ASEAN-PH",  But all BSOD channels didnt recommend him to rename him as that so the user was named as "BSODHubAndreiByCrydiaa'sCrushByGachaLife Channel", which made a mess that caused KimmyGamePro to rename his username for unspecified reason.
Today, BSODHubAndreiByCrydiaa'sCrushByGachaLife Channel is focusing on Chrome WSOD and Has BSOD involving Gacha videos and Crydiaa videos and Crydiaa YTP videos (soon). He is no longer uploading TVC's because he was brainwashed/influenced by all Windows fanatic Youtubers involving BSOD.